Save Starlight, a 501(c)3 non-profit organization
Save Starlight is an initiative working to restore, revive and revitalize San Diego's historic and iconic Starlight Bowl— The Starlight Bowl is a 3,600 seat amphitheater that has been in operation for over 75 years located in the heart of San Diego at Balboa Park, our nation's largest urban cultural park. The Bowl has been closed since 2012, and has fallen into disrepair.
Our Vision For Starlight Bowl…
restoring a once abandoned place to bring it new life and purpose.

The Starlight Bowl will transform and evolve from a once in-house producing musical theater company, to a multicultural, music, event and performing arts venue.

Open year round, we imagine a new generation of diverse performances and scalable events for San Diego and its visitors from around the world.
Using creative technology to address opportunities and challenges for its location and architecture. Starlight's stage will have permanent sound, light installations and video screens. This will create new opportunities for performances ranging from circus, concerts, cinema, festivals, theater, community and balboa park events!

Performers and organizations from throughout San Diego county will have access to our venue with no upfront cost. Our organization will only collect a small percentage of ticket sales to cover operating costs with the rest going back to the performers or event organizers. This will enable local schools and organizations who may not have an up front budget a cost effective means to do events and performances. We believe the Starlight Bowl should be for everyone, and it is our goal to make that the case! Save Starlight's intent for this space is to be available for community events and performance of all shapes and size. We want YOU!!! Whether you're in our audience or on our stage, whatever we can dream is what we can do!
A new kind of entertainment
accessible, diverse, inclusive
History
BALBOA PARK'S OPEN AIR AMPHITHEATRE
Starlight's Legacy
The Starlight Bowl was built in 1935 for the 1935-36 California International Pacific Exposition in Balboa Park. Designed by architects Richard S. Requa, who was the lead architect of the 1935 Expo. The bowl's acoustical engineering was by Vern D. Knudsen, who also helped design Hollywood Bowl. Originally called The Ford Bowl the amphitheater was built in tandem with the Ford Building (now the San Diego Air & Space Museum) as a showcase for Ford vehicles. Symphony concerts were held out of the bowl, and broadcast live from coast to cost. This was considered the artistic peak of the exposition. After the expo closed, the symphony continued to perform regularly in the ford bowl along with various other events and vaudeville performances. In the late 1940's after the Navy had taken over the park during World War II, the city renamed the facility the "Balboa Bowl" In 1946, a group of local operetta fans incorporated as the San Diego Civic Light Opera and using the title "Star-Light" they had begun performing light opera and musical comedy. The Bowl was always very popular during this time in the 40's and 50's, as the place to be and be seen in San Diego.
In 1984 "Starlight Bowl" became the official name of the facility and, the following year a major addition was designed by architect Gerald Garapich for $2 million including a stage house for proper handling of scenery ("the green box"). Soon thereafter, though, the company began a long slide away from prosperity and into deficit. Productions were cancelled and entire seasons followed. Occasional revivals faded away until September 2010, when the last scheduled show was presented. Therefore the bowl fell into neglect...
Many of you now, and locals remember this venue for its musical theater and the famous "freeze" actors would do mid scene. Starlight has always been a favorite place of San Diegans and its visitors to gather and enjoy a variety of performances, Symphonies, vaudeville, comedy, rock concerts, theater shows, circus acts, organ and piano performances, even many locals graduated High School at Starlight. Not to mention the musical legends that have performed on its stage that include Jerry Garcia, Santana and The Rolling Stones. Its past is unique and ever evolving.

This venue is an essential piece of San Diego and Balboa Parks history. No matter what kind of show or performance you can recall, everyone has the memory of the joy and magic they experienced here.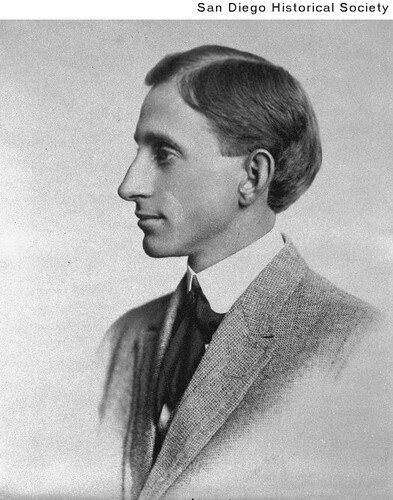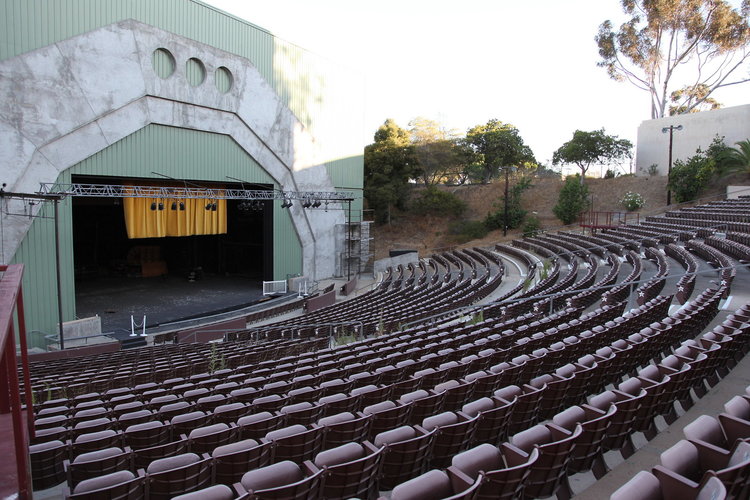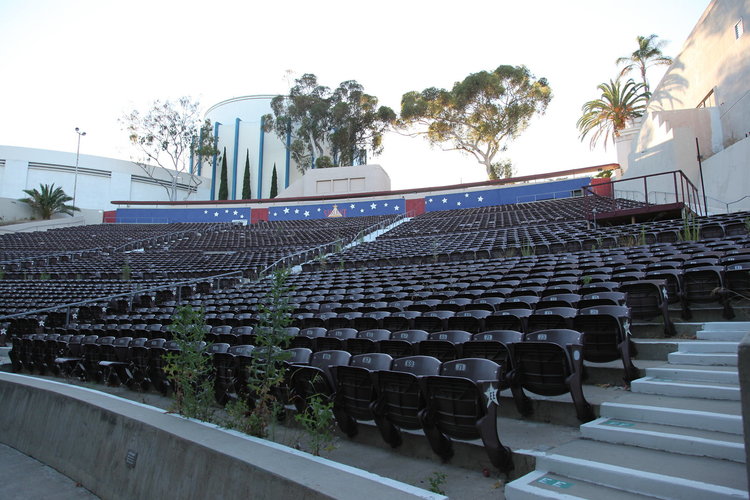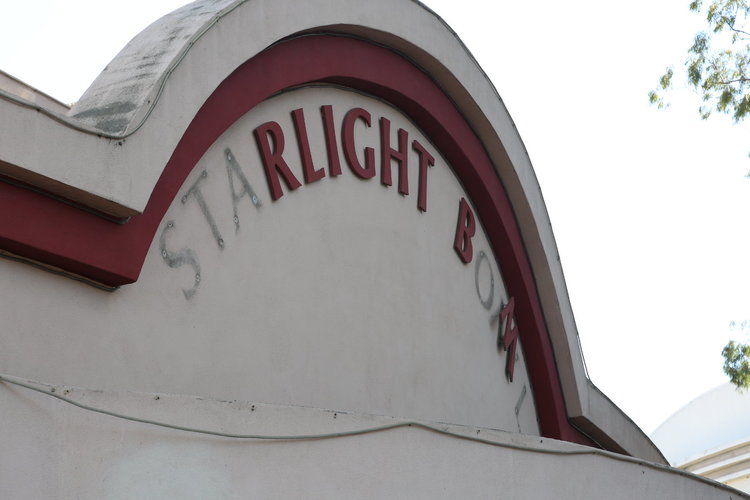 Our Journey

Save Starlight was founded by Steve Stopper. Steve owns and manages San Diego's largest Audio & Visual Company. He was the former sound technician for over 10 years at The Starlight Bowl. This is where he fell in love with the magic of the venue and performing arts, spending many nights at Starlight with friends and his daughter. Once the company and previous tenets, San Diego Civic Light Opera, folded in 2012 this is when his mission started to bring back this space he was so proud and fond of. Steve knew there could be a more adaptable business model as well as his forte, technology, to better suit the space and the evolving changes in economics, audiences and performances. In 2016 he received an official 501(c)3 Non-Profit and formed the Grassroots Save Starlight Organization.
Steve's passion was contagious and many key players helped join to further grow and develop the organization. One of them being Welton Jones, a 35 year a theater critic for the San Diego Union-Tribune. In August 2016 Save Starlight.org held a 'Reverse Gardening Party' where many citizens and city officials worked hand in hand to help remove weeds and debris from Starlight's seating area with over 400 volunteers! After this event our Organization continued our campaign to obtain the space from the City of San Diego and became active community members in the park. In December 2016 we collaborated with Park and Recreation and our organization hosted a Stage clean up, removing various debris and graffiti from Starlight's stage, orchestra pit and walls. We continued to work on business plans and meet with City and Park officials to raise awareness about the increasing need for security, for the space to be occupied and our organization's vision in how to 'Save Starlight'
In December 2017 our Organization sponsored and host a Stage in the Palisades for December Nights in the park. This is also when we raised $15,000 by auctioning off a donated Fender guitar Signed by Tom Petty and the Heartbreakers, giving us a great funding kickstart!
January 2018 we signed and obtained a SUP (special use permit) from the City of San Diego, making our organization the new lease holders of the space. As apart of our SUP we are collaborating with the City and Parks and Recreation in a phased approach. The past year we have been on Phase 1 of our plan and permit. This phase is the upper section of the bowl, including the ticketing booth and concessions building. Our Organization has nearly doubled in size and has secured, updated, permitted and activated the main entrance to the Bowl. Now as we enter into 2020 we will begin our second phase and new SUP. We are excited about this next big step towards our main goal of restoring the Amphitheater!
Save Starlight is passionate about this space and Balboa Park, knowing this venues unique history and how it can be re-invented. Led by an initiative team with experience in theater technology, urban culture and revitalization, community production, historic preservation, and sustainable business. Our growing team has a deep commitment to the heritage of the Bowl and surrounding park. Our DIT (do it together) spirit is generating collective momentum across San Diego for this vision.
Keep up & follow our journey and progress on social media!
Plan
A Multi Phase Process
Renovating starlight through a Three Multi Phase Process
With much to consider in beginning this project such as ADA accessibility, Historical Assets, up to date fire and safety codes, major repairs and building upgrades as well as adapting programming and technology to better fit the needs of the venue, audiences and today's performances. We have been proceeding forward in a phased approach.
Phase 1
Concession and Ticketing Building + Interim Stage:
*Secure *Fundraise
*Activate Concession and Ticketing Booth Building
*Active programming on Palisades stage
The first phase includes three primary goals:
Entertainment: The development of our interim performance platform The Palisades Stage. Our stage will not only help activate the South Palisades, it will also provide an opportunity for our community to host family friendly events and entertainment.
Food experience: Bringing back Starlight's concessions with a new twist! - better and healthier food options.
Educational Outreach: A digital media center accessible to students across the county. Our goal is to empower students with an interest in the creative arts. Through seminars and a hands-on experience with state-of-the-art technology, students gain the tools they need to pursue a future utilizing multimedia arts, and have the opportunity to connect with Balboa Park.
*Our ultimate goal is to bring many opportunities to our community while simultaneously raise support and funds to create a sustainable footprint for Starlight. Of course, the more we raise, the faster we can rebuild the space to make Starlight the hub for San Diego family entertainment! This is going to be a multi phase process that will eventually result in the full restoration of this 3,400 seat amphitheater.
Phase 2
Amphitheater seats, Restrooms & Starlight's Main Stage:
*Fundraise to restore seating and restrooms
*Fundraise to rehabilitate, and activate Starlight's Main Stage
Phase 3
*Venue in full operation
Get involved
join the cause
Thanks to the hundreds of people like you that have donated to our cause, we have been able to continue and succeed at our efforts to bring this historic and iconic venue back to life! Please consider making a donation today - Bring more, and keep Arts, Culture, and, Creativity to San Diego

Save Starlight is a 501(c)3 Non-Profit Organization. Your donation is tax deductible.
EIN # 81-3430648
Credit Card Donations:
Current volunteer opportunity's
Become apart of our growing team and organization. Click on the box below to find out more
other ways to donate and help…
Paypal Charity Fund:
PayPal covers all transaction costs for donations made on this site, ensuring that 100% of each gift made is available to charity. Your donation will be made to PayPal Giving Fund, an IRS-registered 501(c)(3) public charity
Amazon donates 0.5% of the price of your eligible AmazonSmile purchases to the charitable organization of your choice.
All you have to do is go to amazon smile and select save starlight as your organization. Then do nothing more that your normal shopping! Its that easy and makes a big difference.
Hands on and in kind donations:
If you wish to contribute your skills/time or donate equipment, construction material, furniture, etc. Feel free to contact Jamie McGuffee to receive more details outreach@savestarlight.org
Corporate Matching Programs:
In some cases large companies or corporations offer Corporate Matching Gift programs to their employees. Ask your employer to see if your company offers this amazing opportunity!

If you wish to send a contribution by mail
Save Starlight
9590 Chesapeake Dr. Ste. 3
San Diego CA, 92123
Meet our ORGANIZATION
Visionaries in action
CEO and Founder
Steve Stopper is the former audio technician for Starlight. He currently runs the largest audio, video design service, in San Diego, with customers ranging from the NFL to the Navy. Stopper is also the founder of The School for Creative Careers, a nonprofit focused on giving students experiences in real world performance art environments.
BOARD OFficials
Chair
Chris Parks is a proud native of San Diego, attending Helix High School, Grossmont College, and graduating from San Diego State University with a B.S. in Finance.
Chris has enjoyed a diverse background of business experiences including owning and operating the Ultimate Cup and Javacup coffee house, 11 years in account management and business development with Office Depot's Business Services Division, and 11 years as National and International Sales Manager for a local San Diego manufacturer, specializing in placing consumer packaged goods and products into large retail chains.
In addition to serving on the Save Starlight Board of Directors, Chris's passion for giving back has guided him to serve in roles with the Alumni Association of San Diego State University as General Board Member, Executive Board Member, and as VP of Professional Events & Development for the Business Alumni Network, and as VP of Development for SDSU Alumni's Board of Advisors. He also serves on the Basket Brigade of San Diego Board of Directors, bringing holiday meals to families who can't afford it. He has also organized and participated in home builds for needy families South of the Border.
Chris was a season ticket subscriber of Starlight Theater and has great memories attending countless events with his parents, family and friends. He is excited about the opportunity to restore this City jewel back to greatness!
In his spare time, Chris enjoys travel, photography, golf, personal growth, volunteering, and playing drums.
Treasurer
Sherry Register, CPA, APC, operates a full-service CPA firm serving clients primarily in San Diego County and the surrounding area. An experienced accounting professional, providing bookkeeping, accounting, audit and tax services to businesses, not-for-profits and individuals, she gives back to our San Diego community by volunteering her services to our Save Starlight organization.
BOARD OF DIRECTORS
Robin Peters has been active in current music and production her entire life. Director of Rockin Robin Promotions, she creates music events here locally and in Los Angeles< her events support causes such as Make-a-Wish Foundation, North County Food Bank, The Midnight Mission, MusiCares and of course the Save Starlight mission.
Stan Canaris recently retired after 36 years of service within the Sweetwater Union High School District as a teacher, football coach and dean of activities at various schools. He oversaw the opening of Eastlake High School in 1992 and served as vice principal before assuming the role of principal in 1995. It was under his leadership that the school, then the newest in the district, earned recognition as a California Distinguished School as well as numerous athletic banners. Upon retirement, to honor him and his contributions to the District and the community, Eastlake High named its athletic stadium Stan Canaris Stadium. He also taught and was head football coach at Hilltop High, taught at Sweetwater High School, and served as dean of activities at Mar Vista High School. Stan is a life-time member and Vice President of Eastlake Education Foundation. He has received numerous awards over the years. Highlights of these are: Administrator of the Year at Sweetwater Union High District, San Diego Proclamation, Coach of the Year, Certificate of Congressional Recognition, Recognition from President George W. Bush.
Kevin Charles Patterson comes to San Diego after an extensive career in the performing arts which has taken him on tours for productions around the world. He is also the Executive Director of the San Diego International Fringe Festival as well as the Nations of San Diego International Dance Festival. He is a graduate of the University of the Arts (formerly Philadelphia College of Performing Arts), where he received a BFA in Theatre/Dance.
Ed Hollingsworth is an actor and a retired teacher. He appeared in 35 productions at Starlight, starting in 1980. His wife and all four of his kids have performed at Starlight. He met his wife on the lawn by the back parking lot of Starlight on September 2, 1982. He proposed to her in the same spot one year later. Starlight is a major part of his life.
Steve Kader is a longtime San Diego resident who grew up in a family surrounded by diverse cultures and an appreciation of the arts. His background includes work as a performer, radio personality, artist management (The B-Side Players), entertainment journalism, and writing album liner notes for major record labels. This experience led him to the field of talent buying with long tenures in the past 25+ years at venues as 4th & B and The Birch North Park Theatre and tenures in recent years as The SDCCU North Park Festival Of The Arts and The Centre/Lexus Of Escondido Concerts. Currently he is involved in this capacity with The Adams Avenue Street Fair, Adams Avenue Unplugged, and The Imperial Avenue Street Festival. He has booked such artists in the San Diego market as Willie Nelson, Jack Johnson, Slayer, Thievery Corporation, Allen Toussaint, Kenny Burrell, Wilco, Siouxsie & The Banshees, The Flaming Lips, Juanes, and The Afro-Cuban All Stars. In addition to talent buying he is an independent contractor for the NAMM Oral History Program/Library and involved as an artist consultant to aspiring artists who share his passion for music.
David Mulvaney is an ongoing activist in much of San Diego's non-profit community. Every month he organizes all the volunteer help for Father Joe's Villages downtown and serves as development manager at San Diego Civic Youth Ballet. The son of Jim Mulvaney (former Padres President), he and the rest of the Mulvaney Family actively support Noah Homes efforts toward developmental disabilities.
ORGANIZATIONAL STEERING COMMITTEE
Welton Jones has been involved with San Diego arts and entertainment since 1966, as a theatre and music critic for The San Diego Union-Tribune; as a playwright, director and producer at many venues; and as an activist for innumerable cultural projects.
Diana Cantu is an international business development executive with extensive experience in the intersection of technology and the arts/humanities. Currently she's a consultant specializing telecommunications, broadcast, and multimedia distribution infrastructure. She also has served/currently serves in leadership capacity on boards for nonprofit arts organizations.
Stephanie Sherman is an art director, public curator, and social designer who creates collaborative systems by transforming underutilized spaces and surplus resources. She co-founded Elsewhere--a living museum and artist residency set in a former thrift store that helped to revitalize Greensboro, NC, and is currently the co-director of Common Field, a new national arts organizing network. She has worked as a collaborator and cultural consultant with Materials & Applications (LA), Sensible Recovery (NY), DesignLab (San Diego), Provisions Library (DC) Rebuild Foundation (Chicago), Kulturpark (Berlin), Save Starlight (San Diego), Merz Barn (UK), Forecast Public Art (MN), RadioEE (Miami) and Port-to-Port (international). Her projects have been supported by the Warhol Foundation, Kresge Foundation, National Endowment for the Arts, and ArtPlace America. She holds a BA from University of Pennsylvania in 20th C. Literature, an MA from Duke in Critical Theory+Visual Culture, and is currently working on a Phd in Art+Design at UCSD. She believes there is an art to everything. http://stephaniesherman.net
Staff
Facilities and Maintenance Manager
Phil Danilof came to San Diego in 2000 to work on the Coronado Bay Bridge retrofit with Taylor Pacific. Before that he spent five years with Cal-Dive International in marine construction with over 150 dives. Other large projects were piers for the Navy and Port of San Diego with Manson and General Construction. His poem " Untitled", was published in Across the Way: Countryside by Eber & Wein and Poetry Nation in Sept. 2015 LIbrary of Congress.
Outreach Manager
Jamie McGuffee is a creative spirit who helped to start the Save Starlight Organization in 2016 and continues to be an active member with other organizations in the community and park.
As an instructor with The School For Creative Careers, she has assisted to create and teach seminars for students about music and live production. She has worked for music festivals and events across the globe and many other performance art entities.
Combining her passion and skills inspired by world travels, she aims to develop a diversity of events, performances, and community that The Starlight Amphitheater can provide for San Diego and all its visitors.
Advisors

Gloria Parker has been a part of projects that changed the "event" history in San Diego. At age 16, she started with the San Diego Chargers 1961, followed by the San Diego Sports Arena 1966, San Diego Gulls WHL Hockey 1966, the NBA San Diego Rockets 1967-68, moving forward to the first Holiday Bowl 1978, All-Star Baseball Game 1978, and the Super Bowl XXll 1988.
For 18 years, she was Assistant to Chairman & CEO of a multi-million-dollar manufacturer located in San Diego for the gift industry in the U.S. U.K., and Canadian marketplaces.
Although non-partisan, in 1996 she was tapped to staff the Republican National Committee (RNC) office of attending President Gerald R. Ford and his staff.
For the past 18 years she has been involved with most of the larger San Diego charities that have produced luncheon fashion shows and galas.
John Bolthouse is the executive director of the Friends of Balboa Park . He graduated from the University of Louisiana at Monroe with a degree in air transportation and aviation sciences and a master's in nonprofit leadership and management from the University of San Diego.
Dan Woodard is an alumnus of UC San Diego and received his Juris Doctorate from Loyola Law School in Los Angeles in 1986. He's been an attorney in private practice since then. In addition to nearly 30 years in estate planning and litigation practice, he's mediated nearly 1000 disputes. He was honored by the Los Angeles Superior Court as the Probate mediator of the year in 2010, 2011, and 2012. He has been a member of numerous Boards of Directors and been counsel to multiple non-profit organizations over the past 25 years.
Jennifer Crespo graduated from the San Diego School of Creative and Performing Arts and also is a San Diego State University alumni. She has worked as a performer at Disneyland and Sea World. At the YMCA, she served as site supervisor and Specialty Camp Coordinator for the La Jolla location. As an instructor to the School For Creative Careers she has been involved as a coordinator to after school programs. Jen performs regularly along with her husband Marc Crespo on the mainstage of San Diego National Comedy Theater.
Julia Knoke is a seasoned international business executive, with proven expertise in private, public and not-for-profit strategic planning and marketing execution. Julia's primary passion is successfully launching products or brands into new territories, be they in the virtual or physical world. She specializes in launch execution, brand awareness building, key messaging & outreach material development, and cross-cultural stakeholder collaboration.
Julia's experience includes luxury cosmeceutical and wellness products, outdoor sporting and military goods, private label and offshore production, commercial real estate development, and not-for-profit global licensing and membership associations. She has held positions with both B2B and B2C firms, from small, privately held companies looking to venture into new markets, to large multi-national influencers, such as L'Oreal and the World Trade Centers Association (WTCA) in New York.
Julia received her undergraduate degrees in Biology and German Literature from Occidental College, and her MBA, emphasis on International Marketing, from Thunderbird - the American Graduate School of International Management. She is also fluent in German, with strong proficiency in Spanish.
Vicki Estrada is President and Founder of Estrada Land Planning, San Diego's premiere landscape architectural firm. Having designed Balboa Park's master plan and Central Mesa Precise plan, she brings an amazing overview of past, ongoing and future Balboa Park direction to the Starlight Team. Vicki also is a talented musician. and often performs for Starlight gatherings.
Dr. Richard Parker Bio coming soon*
Kristie Aguirre *Bio coming soon
Sparks Moeller *Bio coming soon
Tom Versen *Bio Coming Soon
Contact Us
Lyndsey Abatie-Gonzales (General Info): info@savestarlight.org
Steve Stopper (Production): sstopper@savestarlight.org
Jamie McGuffee (Outreach): outreach@savestarlight.org
619-252-1744
The starlight AMPHITHEATER
2005 Pan American Plaza
San Diego, CA, 92101